DATASHEETS
Cloud Financial Models Technical Brief
(TB-PUB-2-0979A-EN) File size: 166.8 KB, posted Apr 19 2021
How does the financial model for cloud-based media production compare with traditional methods?

At some point — usually early — in any conversation about adopting new technology, the question arises: "How is this going to impact the bottom line?" Adopting cloud-based media production models is no exception. In many instances, technology has outpaced the development of commercial models, so it's an important topic. Let's take a look at how the return on investment can change when content is created using a SaaS workflow in the cloud.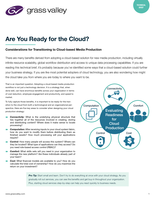 Are You Ready for the Cloud? Technical Brief
(TB-PUB-2-0971B-EN) File size: 235.5 KB, posted Mar 18 2021
Considerations for Transitioning to Cloud-based Media Production

There are many benefits derived from adopting a cloud-based solution for new media production, including virtually infinite resource scalability, global workflow distribution and access to unique data processing capabilities. If you are reading this technical brief, it's probably because you've identified some ways that a cloud-based solution could further your business strategy. If you are like most potential adopters of cloud technology, you are also wondering how might the cloud take you from where you are today to where you want to be.