DATASHEETS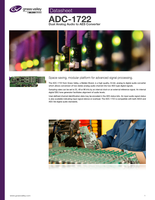 ADC-1722: Dual Analog Audio to AES Converter Datasheet
(GVB-1-0334B-EN-DS) File size: 828.7 KB, posted May 21 2016
The ADC-1722 from Grass Valley, a Belden Brand, is a high quality, 24-bit, analog to digital audio converter which allows conversion of two stereo analog audio channel into two AES type digital signals.
Sampling rates can be set to 32, 48 or 96 kHz by an internal clock or an external reference signal. An internal digital EBU tone generator facilitates alignment of audio levels.