DATASHEETS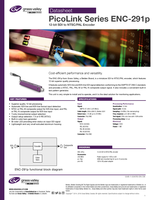 PicoLink Series ENC-291p: 12-bit SDI to NTSC/PAL Encoder Datasheet
(GVB-1-0367B-EN-DS) File size: 526.8 KB, posted Dec 02 2016
The ENC-291p from Grass Valley, a Belden Brand, is a miniature SDI to NTSC/PAL encoder, which features 12-bit superior quality processing.

It features automatic 525-line and 625-line SDI signal detection conforming to the SMPTE ST 259-C standard, and provides a NTSC, PAL, PAL-M or PAL-N composite output signal. It also includes a convenient built-in test pattern generator.