DATASHEETS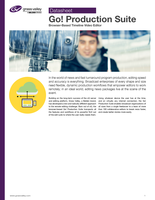 Go! Production Suite: Browser-Based Timeline Video Editor Datasheet
(GVB-1-0725B-EN-DS) File size: 729.7 KB, posted Feb 14 2019
In the world of news and fast turnaround program production, editing speed and accuracy is everything. Broadcast enterprises of every shape and size need flexible, dynamic production workflows that empower editors to work remotely; in an ideal world, editing news packages live at the scene of the event.

Building on the long-term success of the sQ server and editing platform, Grass Valley, a Belden brand, has developed a new and radically different approach to the remote editing challenge. Born out of sQ, the browser-based Go! Production Suite transports all the features and workflows of its powerful NLE out of the edit suite to where the user really needs them.