DATASHEETS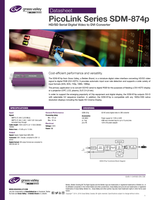 PicoLink Series SDM-874p: HD/SD Serial Digital Video to DVI Converter Datasheet
(GVB-1-0415B-EN-DS) File size: 519.6 KB, posted Dec 02 2016
The SDM-874p from Grass Valley, a Belden Brand, is a miniature digital video interface converting HD/SD video signal to digital RGB (DVI-HDTV). It provides automatic input scan rate detection and supports a wide variety of input formats (525i, 625i, 720p, 1080i, 1080p).

The primary application is to convert SD/HD serial to digital RGB for the purposes of feeding a DVI-HDTV display or a projector (CRT, LCD, plasma, DLP, D-ILA etc).