DATASHEETS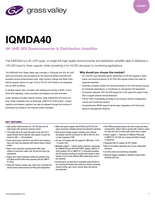 IQMDA40: 4K UHD SDI Downconverter & Distribution Amplifier Datasheet
(DS-PUB-2-0765C-EN) File size: 336.8 KB, posted Jul 12 2021
The IQMDA40 is a 4K UHD quad- or single-link high-quality downconverter and distribution amplifier able to distribute a 12G SDI input to three outputs, while converting it for HD/SD simulcast or monitoring applications.

The IQMDA40 from Grass Valley, a Belden Brand, also includes a 12G/quad-link SDI 4K UHD frame synchronizer and processing for the downconverted channels with powerful picture enhancement tools. High Dynamic Range and Wide Color Gamut support allows S-Log3, HLG or PQ 4K UHD feeds to be integrated into an SDR workflow.