APPLICATION NOTES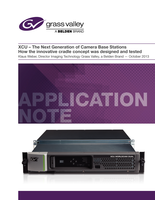 XCU: The Next Generation of Camera Base Stations Application Note
—by Klaus Weber, Director Imaging Technology, (GVB-1-0201A-EN-AN) File size: 1.1 MB, posted Sep 30 2014
At NAB 2013, Grass Valley introduced the newest idea in broadcast camera base stations (CCUs) — the XCU eXchangeable control unit. Two XCU models (XCU WorldCam and XCU Elite) have replaced the previous range of LDK 3G Transmission base stations and offer the same functionality and performance.

However, XCU also provides a unique "cradle" concept which allows for easy "slide-in" and "slide-out" of the XCU into and out of a pre-mounted XCU cradle. This unique cradle concept is a revolutionary solution and a real game-changer for video production companies — such as OB truck operators — as it helps to minimize operational costs and streamlines the reconfiguration of OB trucks for each production.