DATASHEETS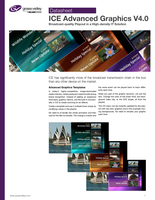 ICE Advanced Graphics v4.0: ICE Advanced Graphics V4.0 Broadcast-quality Playout in a High-density IT Solution Datasheet
(GVB-1-0717A-EN-DS) File size: 1.9 MB, posted Apr 25 2018
Advanced Graphics Templates

In today's highly-competitive, image-dominated media industry, media producers need to build strong brand recognition. Instead of adding an expensive third-party graphics device, use the built-in functionality in ICE to create stunning on-air effects.

Create a template and use it multiple times simply by modifying values in the playlist. No need to re-render the whole animation and then wait for the files to transfer. The change is instant and the same event can be played back to back differently each time.